Our House Is Yours
At The Gordon Hotel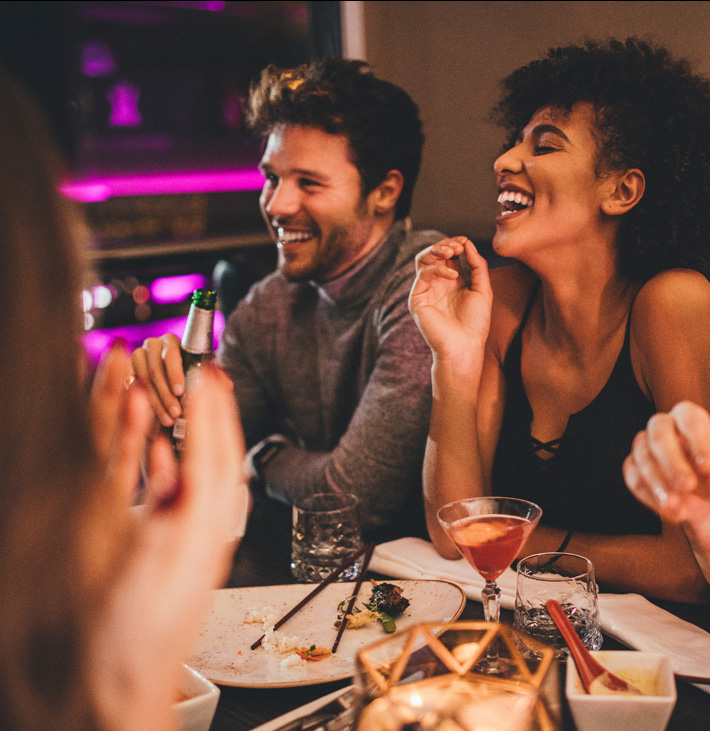 Get To Know The Gordon

New Art-Centric Hotel
In Eugene Oregon

Step through the doors of The Gordon and into your own creative space. Mix and mingle in the lobby, where you can grab a light snack or create art at The Art Bar. Our genuine heartfelt hospitality will make you feel at home upon arrival. We invite you to find a cozy spot, read a book, or make a new friend. Our house is yours—do as little or as much as you'd like.
TripAdvisor Top 25
One of the Hottest New US Hotels
An Award-Winning Stay
TripAdvisor named The Gordon one of 2022's Hottest New US Hotels. As one of only two Oregon properties on the list, we're beyond honored to receive this recognition. Book your stay today and find out why!
What Sets Us Apart
Social Spaces
Linger longer—no agenda needed. Our social spaces promote connecting with like-minded people in a comfortable setting. It's like your living room, but with a downtown Eugene address.
What Sets Us Apart
The Art Bar + Activations
Create freely—The Art Bar contains all the essentials you'll need to explore your creative side. Pick up a paintbrush, write a poem, snap a photo—in other words, let your imagination run wild. Rotating art installations will be exhibited throughout our lobby to inspire you.
What Sets Us Apart
Carlita's Rooftop Bar
Now open, only 21+ allowed
Admire the sunset or strike up a conversation under the twinkling stars. Our 7th floor rooftop bar and Mexican eatery features locally sourced fare and captivating views of 5th Street Public Market and more.
What Sets Us Apart
5th Street Public Market
Wake up in the heart of downtown Eugene. Our hotel is part of the 5th Street Public Market and opens into the covered Market Alley filled with local artisans, boutiques, cafes and tasting rooms.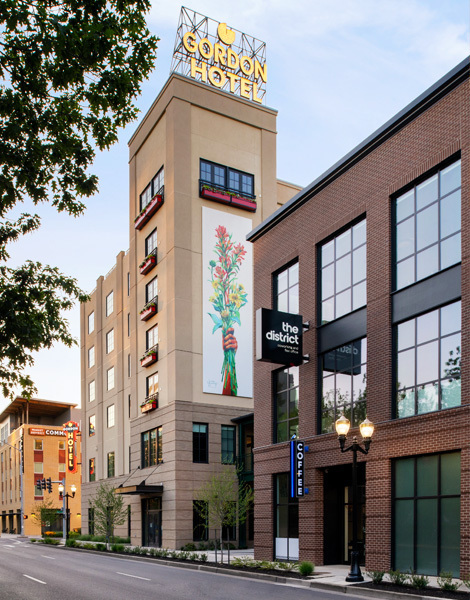 Eighty-two eclectic guestrooms with an artistic flair- crafted just for you. Bask in plenty of natural light, discover ultimate relaxation in signature plush king beds, and snuggle up in the coziest of robes.
Fresh Oregon fare at the Gordon Tavern
Our ground floor restaurant blurs the line between the living room and dining room, beckoning you to grab a seat and settle in, get some work done, or just hang out and enjoy a hand-crafted bite. Open Monday – Friday 7am – 10am and 11am – 11pm; and weekends from 9:30am – 11pm.
Celebrate Create Connect
We are the doorstep to the 5th Street Public Market. Inviting workspaces, artisan shops, craft cuisine, and unique installations await your discovery.
Hit List
Our Picks
There's always an open invitation to join our conversation to connect, discover, and celebrate art. Stay up to date with our curated list of the best happenings and events in Eugene.
Here We Are
555 Oak Street
Eugene, Oregon 97401